Mark your calendars (as long as you live in or near the Richmond, VA area)!!!!
On March 26, 2011, Pro Wrestling Mid Atlantic will be returing to Colonial Heights High School to present HAVOC IN THE HEIGHTS 2!
PWMA is the company I worked for as a referee. Now, in my esteemed position as journalist, marketer, and other-worldy provocateur, I get to tell YOU about this unprecedented show.
You see, this won't be just another Indy show. PWMA is bringing you the BIGGEST show in the history of the Indies:
Civil War Games: 40 Men. 3 Rings. 1 Cage.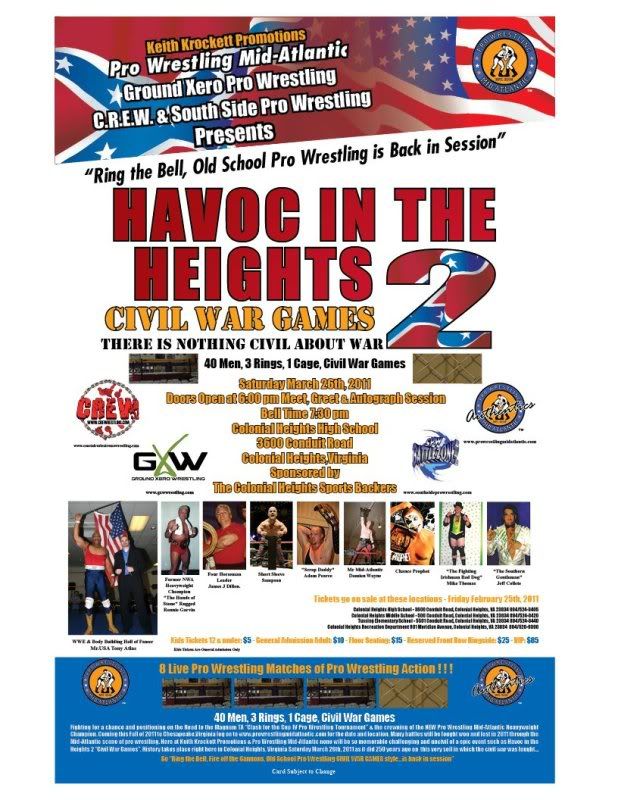 Now, not only will HitH2 feature this never-before-seen match, it will also feature some incredible names:
WWE Hall of Famer "Mr. USA" Tony Atlas
Legendary Manager of the Four Horsemen James J. Dillon
Former NWA World Heavyweight Champion "Hands of Stone" Ronnie Garvin
Former NWA Champion and ROH Booker Adam Pearce
Stay tuned to SquaredCircleSideshow over the next few weeks for some exclusive surprises as we prepare for HAVOC!